The Hudson Bayou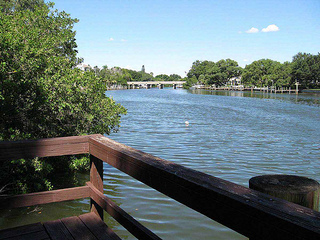 The Hudson Bayou Neighborhood of Sarasota holds top ranking as an exemplary neighborhood, and is a popular choice for singles and married families alike. Approximately 37 per cent of the just over 1,100 people who call this exceptionally livable neighborhood home have children under the age of 18, and the median household income of the area is just under $80,000. The high school graduation rate is 95 percent, placing the neighborhood 18 percent higher in that respect than Sarasota as a whole.
The cost of living is also higher in Hudson Bayou because of housing prices. Median cost of housing in the neighborhood is over $750,000, or 231 percent higher than the rest of the city; even the median rental rate is 42 percent higher, with a dollar figure of $1,318. The close-in neighborhood has the advantage of a low commute time of just over 15 minutes but, to be fair, Sarasota is a rather small city and the overall commute time for the 50,000 plus population is just 22 minutes.
Hudson Bayou shares with its neighbors the advantages of weather, a generally sunny climate with average summer temperatures of 82 and the winter norm of 64 degrees some of the best in Florida. On the Areavibes.com rating scale, this neighborhood is graded A+ for weather, housing and amenities, B+ on the employment scale and B for education.
Hudson Bayou is nestled just inland from the waters of the Gulf, within easy access to Bird and Longboat Keys and their attractions; residents are also near the Botanical Gardens and the Sarasota Museum of Art, local medical and health care facilities, shopping, restaurants and schools. It has lots to recommend it in the midst of popular Sarasota, and ranks 29th on the list of the state's best neighborhoods.
Sources: http://www.areavibes.com/sarasota-fl/hudson+bayou/livability/