Sarasota Restaurants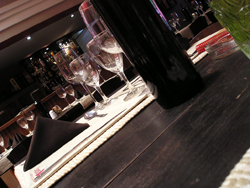 In Sarasota, there's just too much that's good; it's almost impossible to narrow a list of restaurants to just 10. Sarasota is a foodie's haven and, whether your tastes run to candlelit romantic, healthy and fresh, small bites of delectably different and exotic flavors, fresh catch from the Gulf, or soul food like chicken and waffles, you can find something wonderful in this town.
Always popular for fine dining, with visitors and locals alike, are Roy's Sarasota, the Bijou Cafe, and Michael's on East. People drive long distances to dine at these iconic locations and, while not trendy, you can be assured of great food, good drinks and fine service.
Life in Sarasota is quite casual, though, most of the time. Sarasota Magazine in May published a list of readers' picks for the "Best of Sarasota 2013" in various categories, and some of the recommended newcomers on the food scene include a late-night sandwich counter at Melange. Located on Main Street in Downtown, and open from 8 p.m. to 2:30 a.m. except Tuesdays, it's great for insomniacs, night owls, sleepless visitors to the city, or shift workers who need a pick-me-up. They say the food is memorable as well. Another local Downtown favorite, Eat Here, has opened a new location on Siesta Key as well as its original Anna Maria Island spot celebrating Gulf Coast fresh flavors and creative cocktails.
The Blue Rooster will fill you up with great soul food, and then perhaps get you up and dancing with down-home live music. No matter what your favorites, you're sure to find something to like about this one! And, if urban comfort food is more your style, you can find it at State Street Eating House + Cocktails -- it's chic, sophisticated and still comfortable. Quite a feat!
As a twist on farm-to-table fresh food, there's the King Family Farm which sets tables outside in the orange groves to give diners the best of fresh in a traditional farm setting. Collaboration between the farm and the Loft 5 event planning service, this kind of dinner will indeed be special.
Just two additional "must visits:" For sweet treats, get thee to The Short Giraffe on First St. and, for coffee, try The Coffee Loft on Tamiani Trail, a nonprofit which also serves up community and cultural awareness and supports local and international humanitarian causes.