Luxury Communities in Sarasota
It's not surprising that the most popular, and most expensive, luxury dwellings in Sarasota are adjacent to water -- and not just with views of the rippling Gulf or the sunset. Many of the truly luxury estates, gated communities and condominiums also have pools, private beaches, boat docks and even backyard dredged canals. Water is paramount in this sparkling city; beaches are renowned for their quartz-like white sand, and recreational boating and fishing are si-highlight--primary leisure activities.
Although luxury homes can be found sprinkled throughout all areas of Sarasota, particularly in newer developments, there are established areas that are well known for their spectacular estates, some of them historical residences dating from the 1920s and '30s. St. Armand's Circle, an area planned by Circus Magnate John Ringling, is primarily known for its shopping and nightlife, but there are some very special homes, as well, on the key that was once private and connected by the mainland by a private causeway.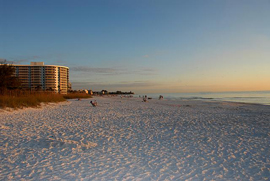 Siesta Key, with a two-mile beach that was named "best in America" in 2011, is the most family oriented of the inhabited barrier islands off of Sarasota, and its luxury homes are surrounded by water. Longboat Key is another choice for the world's rich and famous who maintain homes here, as well as for well-to-do locals who live in such neighborhoods as Country Club Shores and Bay Isles.
On the mainland, West of the Trail is the area most mentioned in the same breath as the word "luxury," with multi-million dollar homes nestled in the communities of Bay Point Park, Whitakers Lane, Harbor Acres and Lincoln Park, all conveniently near the hospital and medical facilities and near Morton's Market with its popular shops and dining choices.
If you're willing to wait for a new luxury residence, plans have recently been announced for the first new ultra-luxury condo since 2006, to be built at Golden Gate Point. Featuring just eight floor-wide residences, they are expected to sell between $3.495 to $5.695 million.
Sources: http://www.murrayrealtyflorida.com/communities/sarasota/st-armands-circle, http://www.prnewswire.com/news-releases/sales-launch-at-aqua----sarasota-floridas-first-direct-waterfront-ultra-luxury-condominium-development-since-2006-227797091.html, http://www.davidbarrhomes.com/neighborhoods.html, http://www.buysarasota.com/blog/tags/st-armands-real-estate/