Sarasota's Elementary Schools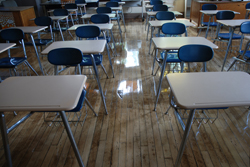 Parents looking for top-rated elementary schools have several options in Sarasota, with a total of 38 public schools available in the city. In Florida, all schools are rated, based on test results, and seven of Sarasota's kindergarten through grade five elementary schools scored at least nine on the 10-point grading scale.
Sarasota School District as a whole was ranked seven out of 10 for academic excellence.
Two elementary schools earned 10 ratings following the most-recent rankings: Ashton Elementary, with 811 students, and Sarasota Suncoast Academy, a charter school with 469 students, boast top standing based on standardized testing, and each garnered four stars based on a parent and public-comment ranking by Greatschools.org.
A non-traditional magnet elementary school in Sarasota, Bay Haven School of Basics Plus, was one of five local schools to score a "nine" on the state's ranking system, and it also rated five stars, the top commendation from parents. With 583 students and 39 full-time teachers, Bay Haven has a teacher-student ratio of 1:15.
Four other elementary schools earned ratings of nine, based on testing conducted under the No Child Left Behind Act. These are Phillippi Shores Elementary with 757 students, Southside Elementary with 771 students, Tatum Ridge Elementary with 685 students, and Lakeview Elementary which has an enrollment of 604 students.
All of these schools except Lakeview earned five-star ratings based on parental comments, with Lakeview winning four stars. While class size varies only slightly, as does teacher-student ratio at Sarasota Elementary Schools, Phillippi Shores Elementary School boasts the lowest ratio with one teacher for every 14.1 students. Southside and Tatum Ridge are unique among the top seven by offering pre-kindergarten programs.
In addition to the public elementary schools in Sarasota, there are a number of private and parochial schools, increasing parental choice.
Sources: http://www.greatschools.org/florida/sarasota/schools/?gradeLevels=e, http://publicschoolsk12.com/elementary-schools/fl/sarasota-county/