Moving to Sarasota with Children?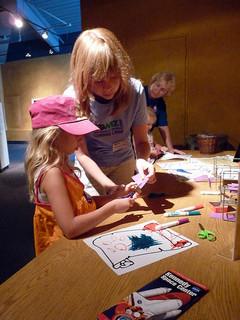 There are so many things in and near Sarasota to occupy children's minds and bodies that the problem may be prioritizing your excursions. Many activities, of course, involve the water and lead to spending time near the beach, but that doesn't necessarily mean simply soaking up the sun or building sand castles.
Some of the attractions your little ones will love include:
Eco tours and hands-on experiences offered by Sarasota Bay Explorers
Sarasota Jungle Gardens with nature trails and many different exhibitions
Sarasota Youth Sailing Program
Mote Marine Laboratory and Science Center
Lake Manatee State Recreational Area
Crowley Museum and Nature Center, located on marshland adjacent to the Myakka River; the site makes the learning of pioneer history come alive
These are all special and lend themselves to a variety of family outings and ongoing programs, but there are many other museums, special programs and historical exhibits that you will enjoy along with your children if you are a newcomer to this particular part of Florida's Suncoast.
You cannot really escape the influence of the circus in Sarasota, because John Ringling and the Barnum and Bailey training grounds played such an si-highlight--primary part in the city's history for so many years. Three attractions are not to be missed: The Ringling Museum of the Circus si-highlights history and memorabilia, from posters and playbills to props and costumes, even circus wagons. It is a delight, and it is located on the grounds of the Ringling Museum of Art and the Ringling Winter Residence, Cà d'Zan. In the same vein, the Florida Gulf Coast Railroad Museum is a visual and historical experience that can capture the imaginations of children and adults alike.
GWIZ -- The Science Museum is another gem that is educational and fun for all ages. The interactive gallery and critter habitats will be favorites.
Sources: http://www.simplysiestakey.com/kids.html