Expensive Homes in Sarasota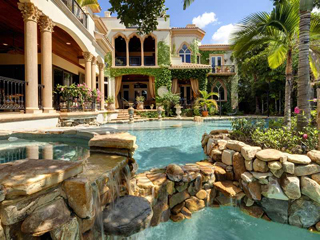 There is no shortage of multi-million dollar properties in Sarasota; anyone looking for a luxury residence in this small city on Florida's suncoast will have a myriad of properties to choose from. In addition, the range of architectural styles, neighborhoods, and settings is diverse, making a choice more difficult.
There is a common thread, however, running though all luxury properties in this water-oriented community, and that is the water. It is a safe bet that any high-priced residence will at least have a pool and a close proximity to the waters of the Gulf. A large, luxury estate might be located on a private finger of one of the barrier keys, surrounded by water on three sides, and boasting a private boat dock. Or, the home could have a forest of palms and orange trees leading to private lawns, perhaps a tennis court, and a canal location. There might be outbuildings, in the tradition of the grand estates dating from mid-twentieth century showplaces.
One listing at just under $8 million includes two new luxury residences joined together under one roof; listed as the perfect getaway for corporate executives or a multi-generational family with lots of members. There are eight bedrooms and 10 baths in this walled and gated compound.
Another amazing property offers 600 feet of Sarasota Bay waterfront, along with two secluded residences that date from decades ago that have been updated and are habitable. The land, however, is the draw here, and it is offered at $12,900, with the expectation that the buyer will build a new residence in keeping with the tradition of great Sarasota estates.
In mid-December, there were approximately 250 properties for sale, which topped the million-dollar mark, with the most expensive at the time a 5-bedroom, 5.5-bath beauty of almost 10,000 square feet. Listed for $14.9 million, it features all the requisite amenities including a full temperature-controlled wine cellar, an exercise room with more equipment than some gyms, and home theater.
Sources: http://www.zillow.com/sarasota-fl/expensive-homes/