Lido Key Sarasota Real Estate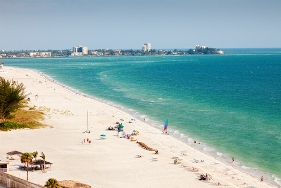 Lido Key is a beautiful beach location situated in the heart of Sarasota Florida. Lido Key features Lido Beach, which is one of the main attractions in all of Sarasota and includes over 3,000 square feet of beach property.
Lido Key is divided into two sections; South Lido Beach and North Lido Beach. For a secluded getaway, North Lido beach features an additional 3,000 square feet of beachfront property that has no lifeguards and a small amount of parking.
Nature trails weave through each of these beach areas. There is free parking and the beaches are accessible from morning until dusk. It is also a non-smoking beach and has exceptionally soft baby powder sand and pristine clear aqua water. People come from all over the world to this destination for weddings and engagements, in order to enjoy and take full advantage of this beautiful beach. The Mote Marine Laboratory and Aquarium features a 130,000 gallon shark tank with a wide variety of sea creatures, and also features an interactive area wher you can touch dolphins and other wildlife.
Lido Key Homes For Sale