Where's the Top Brunch Spot near Sarasota, Florida?
Posted by Alan Atchley on Thursday, June 12, 2014 at 1:16 PM
By Alan Atchley / June 12, 2014
Comment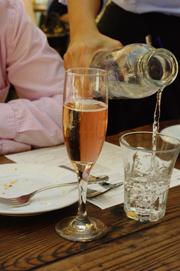 When in Sarasota, Florida there are lot's of idea spots for you to grab some brunch. Enjoy the scenery and warm weather that is offered in Sarasota, then grab something to eat before setting out on your next adventure. Here are some of the great restaurants in Serasota that serve brunch.
Bayside Dining Room at Marina Jack - 2 Marina Plaza, Sarasota
Enjoy eating by the bay at Marina Jack's. This extravagant restaurant offers a stunning panoramic view of the Sarasota bay, downtown, and the marina. They serve American Seafood, which includes Lobster, shrimp, and a raw bar. If seafood is not what you are craving, you can also enjoy pasta, chicken, and prime beef. An average meal cost around $25, and complimentary valet parking is offered.
First Watch - 1395 Main Street, Sarasota
While shopping downtown, you can grab a tasty brunch at First Watch. This is a favorite breakfast spot for locals in Sarasota. Some of the options you have to choose from include omelets, an egg and vegetable skillet, apple and cinnamon oatmeal, sandwiches, and salads. An average meal cost $8, and it is conveniently located in downtown Sarasota.
Saltwater Café - 1071 North Tamiami Trail, Nokomis
The Saltwater Café is family owned, and has an outstanding Swiss chef who attracts a crowd. Menu options include steak, pasta, seafood, and pizza. They are known for their friendly service, and have a daily Happy Hour. On the weekends, stop in and experience some live entertainment. Average meal costs $19.
Other restaurants that serve brunch include:
Ophelia's – 9105 Midnight Pass Road, Sarasota
Nellie's Deli, Marketing and Catering - 15 South Beneva Road, Sarasota
There are so many fun and exciting things to do while in Sarasota, Florida. Don't forget to take in some of the delicious food that is offered in this area, as well.