Where are the Top Spots to See White Pelicans?
Posted by Alan Atchley on Friday, March 14, 2014 at 10:53 AM
By Alan Atchley / March 14, 2014
Comment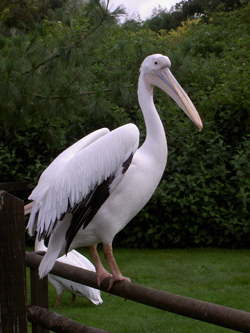 Before the White Pelicans head back north, you may have the urge to spot these beautiful creatures and watch them in their natural habitat. Finding the right place to see a few White Pelicans can make for a great day, whether you need binoculars or not.
These beautiful birds have snowy white feathers, a pinkish colored bill and they often come in groups. They avoid open water and often you will find them in isolated areas. However, when you find one, you will often find a larger group. White Pelicans are not nearly as social as brown pelicans, so they are a bit harder to spot and watch.
Many Florida bird watchers will tell you the White Pelican is one of the most spectacular sites in the state. They arrive in the fall and will remain in Florida until late spring. Only another month or so and they will be gone until fall.
Some of the best places to see these beautiful birds include:
Myakka State Park - Sarasota
Benderson Park - Sarasota
Sarasota Bay - Sarasota
The Celery Fields - Sarasota
Cortez Village - Bradenton
Anna Maria Island - Bradenton
Robinson Preserve - Bradenton
Marco Island - Cape Romano
Charlotte harbor Aquatic Preserve - Placida
White Pelican Island - Placida
Gasparilla Sound - Placida
Alligator Creek Preserve - Punta Gorda
J.N. Ding Darling National Wildlife Refuge - Sanibel Island
Everglades National Park - Flamingo
10,000 Islands - Everglade City
Matlacha - Pine Island
One of the best spots in South Florida for viewing these beautiful birds is found near Placida. It's called White Pelican Island and is known for having the largest White Pelican population in the entire country. If you head to the area by the boat, you will most likely spot these beautiful creatures. Another good spot is out by the fishing pier at Boca Grande Causeway.
If you're looking to spot White Pelicans before they leave Florida for the summer season, head to any of these spots and try your luck. If you're able to find a few, it will make the trip worth it.