Where are the Top Golf Courses in the Tampa-Sarasota Area?
Posted by Alan Atchley on Friday, May 2, 2014 at 10:02 AM
By Alan Atchley / May 2, 2014
Comment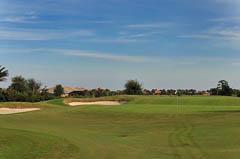 Golf season may be coming to a close for some in the Florida area, but it's just getting started for others. You can play year-round in the Sarasota area and many will hit the links even during the warmer summer months.
The best part about the May through October golf season is the rates you can enjoy at some of the top area course. Many offer deeply discounted rates and twilight rates for the summer season. Some private courses have even been known to open themselves up to the public. Here are a few of the top courses you should consider playing this summer in the Tampa-Sarasota area.
Kingsway Country Club
This semi-private course is one of the best layouts in the area. It was created in the 1970s and redesigned in 2004 after Hurricane Charley. If you're looking for a place that will be in great shape nearly every day of the year, this is the club for you.
Club Renaissance
Found just to the south of downtown Tampa, this is one of the highest rated courses in the area. It's well worth the drive and the private club will let you get on in the summer for a reasonable rate.
Rolling Oaks at World Woods
Maybe the best course in the entire area, playing the Rolling Oaks course will provide a round unlike any other. This course is very highly rates and many locals will tell you to play here if you get the chance.
Lake Jovita Golf & Country Club
Another reputable course found in the area, Lake Jovita Golf & Country Club covers over 1,000 acres of land. It's a gated community with two 18-hole golf courses, both worth playing.
Pine Barrens at World Woods
World Woods is responsible for incredible golf and the Pine Barrens course is a top 100 course just about every year. You will find many great challenges as you make your way around this top area course.
These are just a few of the many amazing golf courses found in the Tampa-Sarasota area. All are highly recommended by the Golf Channel and local golf experts. Whether you want to enjoy a beautiful course or you're looking for a new challenge, you can find just what you need in this area of Florida.