Where are the Best Family-Friendly Hotels in Sarasota?
Posted by Alan Atchley on Thursday, July 17, 2014 at 7:58 AM
By Alan Atchley / July 17, 2014
Comment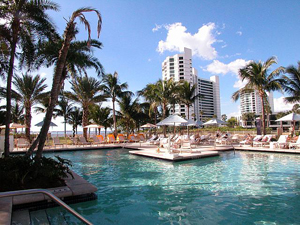 Sometimes, you need a family-friendly hotel for out-of-town guests. Sarasota has plenty of great choices for you to recommend when you don't have the room or simply don't want family taking over your home for a week or longer. Here are some of the top choices.
Hyatt Regency Sarasota - 1000 Boulevard of the Arts, Sarasota
This hotel is surrounded by some of the most popular destinations and attractions in Sarasota. It offers convenient and central location for all sorts of excursions. The Hyatt Regency is one of the most preferred locations for those moving to the area and in search of a new home, as well.
This hotel is within walking distance from white sandy beaches. Several recreational opportunities are also available nearby. Individuals in town for work are just minutes away from some of the most vital commercial districts, financial and government buildings.
Plenty of attractions are found nearby including:
The Classic Car Museum
Robarts Arena
Myakka Wildlife Tours
Selby Gardens
Mote Aquarium
And More!
The hotel offers onsite parking and it's only a 20 minute drive from the airport.
Helmsley Sandcastle Hotel - 1540 Benjamin Franklin Drive, Sarasota
Found only few steps away from the beach, the Helmsley Sandcastle Hotel is a very desirable location. The hotel is found near the Ringling Center for Cultural Arts, the Classic Car Museum, Mote Aquarium and many other attractions. It's also just a short drive from the airport.
Ritz-Carlton - 1111 Ritz Carlton Drive, Sarasota
The Ritz-Carlton is located near to Sarasota Bay that is only few steps away from prime districts of Sarasota. It's perfect for the family seeking luxury and for many other types of travellers. The location is convenient to most of the city and many dining options.
When you need a family-friendly hotel near Sarasota, these are the top choices. Whether it's for family traveling to visit or for your family as you discover your new home, these three hotels will provide a prime location, along with a family-friendly atmosphere.