What is The Ringling?
Posted by Alan Atchley on Thursday, January 2, 2014 at 8:09 AM
By Alan Atchley / January 2, 2014
Comment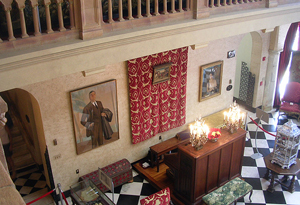 The Ringling is an Art Museum in Sarasota, Florida. This is one of the top choices for art and it includes the art museum, circus museum, research library, historic theater, historic mansion and a conservatory laboratory. This is a top attraction found in Florida and provides many things for the public.
The six attractions found as a part of The Ringling include:
Museum of Art
Circus Museum
Historic Asolo Theater
Art Library
Bayfront Gardens
Ca'd'Zan Mansion
These attractions provide a little bit of everything and provide something for all visitors.
Tours
The best ways to see these attractions is through one of the tours. Whether you take a private tour as a group or you prefer a scheduled tour, you'll see and learn more with a tour. Some of the tours available include:
Guided Tour of Ca'd'Zan
Bayfront Gardens Tour
Permanent Collect Museum of Art Tour
Special Exhibition Tour
Guided Tour of the Circus Museum
School or Community group Tours
And More!
Any group can schedule a private tour and group tours are available for school groups and other groups from kindergarten and up.
Along with the many exhibits, collections and other things to see, your visit can include a meal at Treviso. This restaurant provides a leisurely meal for lunch or dinner. They provide excellent food with plenty of good choices.
Admission and Hours
Admission prices include all attractions and for adults the cost is $25. Student 18 and older get in for $5 with an ID and children ages six to 17 get in for $5, as well. Active Military receive admission for $10 and so do Florida Teachers with an ID. Seniors receive a $5 discount and memberships are also available.
The Ringling is open from 10am to 5pm every day of the week. They stay open until 8pm on Thursdays and The Bayfront Gardens provides hours from 9:30am to 6pm daily.