What is the Ca d'Zan Mansion?
Posted by Alan Atchley on Tuesday, December 24, 2013 at 11:07:10 AM
By Alan Atchley / December 24, 2013
Comment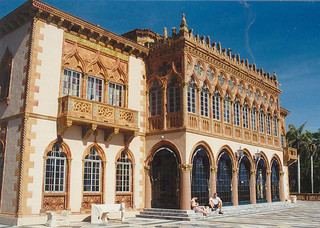 Found in Sarasota, the Ca d'Zan Mansion was originally the home of the Ringlings. This Mediterranean Revival residence was the home used by John Ringling and his wife Mable in the winter. The site overlooks the Sarasota Bay and provides amazing views. The Ca d'Zan Mansion is now found on the Florida Architecture: 100 Years, 100 Places list
This beautiful building was remodeled in February of 2006. It is now an educational place with plenty of excellent features to enjoy. Touring the mansion is possible for $5 and many teachers and students come through the mansion regularly. A more complete tour of the facility is available for $20, as well.
The mansion is air-conditioned and provides a look at some of the best architectural details in all of Sarasota. The architecture ranges in style and many items from the same era are featured throughout. The design was commissioned by Dwight James Baum in 1924, a New York architect. The home was actually developed by Owen Burns, a Sarasota developer and completed in 1926.
Originally, the Ca d'Zan Mansion cost around $1.5 million to develop, which in today's dollars would be nearly $20 million. A portion of the 1998 film Great Expectations was filmed in the mansion, as well.
Within the mansion, you can dine in three different area including, the upscale restaurant, the snack bar and the Banyan Cafe. The mansion also includes an art museum, a courtyard and so much more for visitors to enjoy.
Free trolleys are available to get around the property. The grounds and the buildings are amazing and the location makes this a great place to enjoy a day of Sarasota history. A tour of the Ca d'Zan Mansion will introduce any new resident or even residents that have never been, to some of the best and most beautiful of Sarasota.