What is Flyboarding and Where can you Find it near Bradenton?
Posted by Alan Atchley on Tuesday, February 17, 2015 at 11:34 AM
By Alan Atchley / February 17, 2015
Comment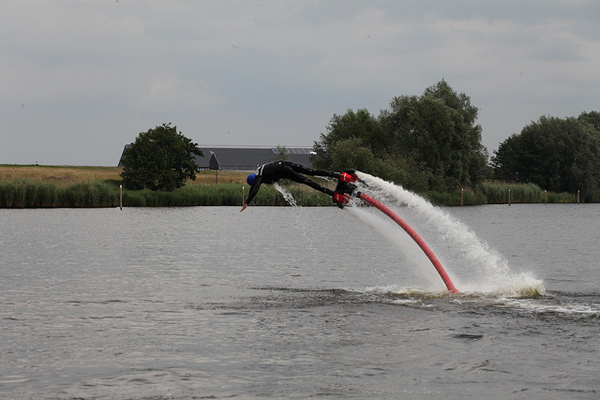 There's only one place to enjoy flyboarding in the Bradenton area and it's called Top Gun Flyboards. This company was started by Jonathon Bockhoff. He was diagnosed with a rare type of cancer at the age of 22, but conquered the cancer and started the company.
What is Flyboarding?
Flyboarding is a bit like surfing, but yet a bit like a hoverboard. It's done with a type of jet that lifts the person out of the water, while they are standing or sitting. It's a board sport similar to other board sports, but not quite the same. The feet are strapped in, so it's all about toe-heel movement and some have compared it to being on a Segway.
Learning Flyboarding
Flyboarding isn't for everybody, however, it can be for anybody. It only takes about 5 to 10 minutes to learn how to do it and people from the youngest age to the oldest have tried it and enjoy the sport. Top Gun Flyboarding offers instructors to teach anybody wanting to learn the sport.
What's Offered at Top Gun Flyboards?
Top Gun Flyboards offers sessions from 30 minutes to an entire day long. Group sessions last four hours and can include up to 6 people. Each session comes complete with an instructor to help the individual or the group learn how to flyboard. Prices start as low as $89.
Some of the more adventurous flyboarders will actually learn some pretty cool tricks form the instructors. They can go as high as 20 feet, but if the participant isn't comfortable with it, the instructor won't push them.
Whether you just want to try this cool sport or you want to become an expert, you can start with Top Gun Flyboarders. It's a fun sport with plenty of great tricks and plenty of high-flying fun.