Venice, Florida May be the Perfect Place for Your Next Home
Posted by Alan Atchley on Thursday, May 22, 2014 at 2:08:34 PM
By Alan Atchley / May 22, 2014
Comment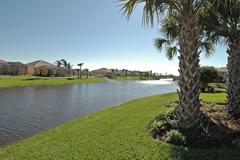 Many have called Venice, Florida a well-kept secret across the Gulf Coast. This area isn't nearly as well-known as Sarasota, Fort Myers or Tampa. However, it's found just 15 miles to the south of Sarasota and provides a great community with excellent beaches and a quaint small town feel.
The outdoor lifestyle is alive and well in Venice and provides plenty of opportunities for beachgoers, golfers and other outdoor enthusiasts. Along with the outdoor lifestyle, residents enjoy the main street area called Venice Avenue, which is full of boutiques, gourmet shops and much more. You can shop at the farmer's market on Saturdays or enjoy the beaches any day of the week.
Of course, many flock to this area of the country because of the climate, but there's more to the Gulf Coast than just the climate. One of the top attractions in this area is the Venetian Waterway Park, which is found on the Intracoastal Waterway. This attraction provides access to many activities and tranquil trails. Whether you want to enjoy a walk in the park or one of the other activities, you will gain full access to this attraction when you choose Venice for your new home.
Along with the park, Venice boasts the only dog beach in the county, which makes it the perfect area for pet owners. The dog beach provides 22.25 acres in total beach and one of the acres is specifically reserved for dogs. You can use the fenced area for play or let your dogs walk along the beach. This attraction opens every day from 7am to dusk.
Venice, Florida is also steeped in history with plenty of historic attractions. The Venice Theatre provides a great choice for those enjoying a show. It opened in 1950 and provides the third largest community theatre in the entire country. This city is also the headquarters of the Ringling Brother's Barnum and Bailey's Circus.
Whether you want to move to Venice or just visit, it's a great place to discover. Those living in Sarasota can take advantage of this Gulf Coast gem anytime they want, after just a short drive south.