Upcoming Events at the VanWezel
Posted by Alan Atchley on Tuesday, April 16, 2013 at 11:17:57 AM
By Alan Atchley / April 16, 2013
Comment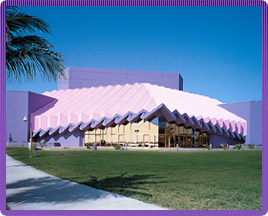 The VanWezel Performing Arts Hall in Sarasota is one of the most popular places for top performers to stop throughout Florida. Many top performances will be held throughout the month of April for residents to enjoy including:
Chicago: The Musical - Tuesday April 9th and Wednesday April 10th
Smokey Robinson - Thursday April 11th
The Addams Family - Monday April 22nd
50 Shades: The Musical - Tuesday April 23rd
Chris Botti - Wednesday April 24th
Rain - A Tribute to the Beatles - Friday April 26th
*All shows start at 8pm.
Enjoy one of the most famous musicals, Chicago, which has won six Tony Awards, A Grammy and two Olivier Awards. It's currently the second longest running show on Broadway. If you prefer a musical performance, take in the Smokey Robinson show including popular music from when he was most popular. His concert will be one of the top choices of the month and is the Executive Director's Pick.
Those looking for a good comedy can enjoy the 50 Shades! parody of the phenomenon currently sweeping the country. It's known as a sexy and funny musical with plenty of fun for all those in attendance.  
If you want to attend the top event for the month of April, get your tickets for Rain and enjoy a tribute to one of the most popular musical acts ever to set foot on a stage. Rain provides you with a trip back to when the Beatles were most famous and they have mastered every song.
Tickets range in price, depending on the event and many other events will be coming to the VanWezel Performing Arts Hall over the summer. If you're looking for a great night out and you want to do something a bit more unique, check the schedule and see what they have on stage.