Upcoming Event: Chalk Festival Venice
Posted by Alan Atchley on Wednesday, November 12, 2014 at 2:23 PM
By Alan Atchley / November 12, 2014
Comment
Downtown Venice is gearing up for this year's Chalk Festival Venice. It will take place on the 14th through the 17th in downtown Venice where residents can enjoy chalk artwork. The theme this year is "Extinct and Endangered Species" and the three day event will bring out artists using the pavement and pastel chalk to create 3D illusions. Here is what you can expect for this year's Chalk Festival Venice.
What is the Chalk Festival?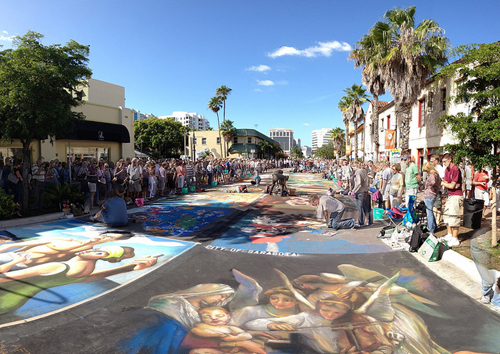 The Sarasota Chalk Festival is a community-based event hosted by the Avenida de Colores 501c3 charitable cultural arts organization. It's completely free to the public and everyone can participate or attend the event.
It takes place once a year in which artists use the pavement to create a 3D illusionistic painting using pastel chalk as their medium. The images look as if they are in-motion. Artists can apply to participate, no matter what age, and the event is run by several volunteers.
What Should You Expect?
Each year a theme is chosen for the event's festivities. This year the theme is all about endangered and extinct species. Once they choose the theme, artists then submit ideas and artwork to celebrate the theme. The event will raise awareness for the animals in danger of being lost or already lost.
Artists will come create art on the pavement with this theme to help bring awareness for the issue. Their art will be colorful and interactive visions of these animals. During the festival, you can also experience song, dance, music, theatre, storytelling and magic. Thanks to generous sponsors, the festival will be free of charge, but donations are appreciated.
Each night of the event will hold different events giving the public the opportunity to meet the artists. They welcome guests to take pictures of the art and bring their friends along for the exciting night. The location of the art will be at the Venice Cultural Campus at 326 Nokomis Ave South in Venice as well as at the Venice Municipal Airport Festival Grounds at Airport Avenue.