The Top Take-Out Restaurants in Sarasota, Florida
Posted by Alan Atchley on Thursday, January 23, 2014 at 12:05 PM
By Alan Atchley / January 23, 2014
Comment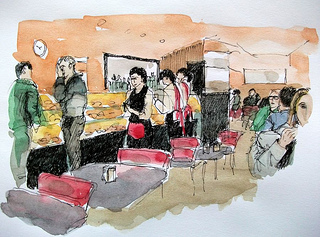 Sometimes you don't feel like cooking and you really don't want to go out for dinner either. When this is the mood in your house, finding the best place with great take-out food is necessary. Here are some of the top restaurants in Sarasota for take-out meals.
Pastry Art - 1512 Main Street
This cafe and bakery provides some of the best takeout you will find, if you're looking for dessert. They offer a number of pastries, tarts, cheesecakes and gourmet cookies. You can also pick up an espresso or coffee here.
Along with the many pastries, they also offer plenty of salads, soups, paninis and other items perfect for an entire meal. Everything is made fresh and the prices are very reasonable.
First Watch - 1395 Main Street
When you need a top spot for take-out breakfast or lunch, First Watch is the right choice. They provide some of the best breakfast food in Sarasota, along with plenty of salads and sandwiches for lunch. Prices average around $8 per meal.
Bijou Cafe - 1287 1st Street
Serving Continental cuisine, Bijou Cafe provides a bit of a classier type of take out. Enjoy items, such as the grouper sandwich, handmade ravioli or the shrimp and crab bisque. They both lunch and dinner with many high-end items, such as roast duckling, escargot, filet mignon and more.
The Hob Nob - 1701 North Washington
If you're just looking for a place to pick up some good casual cuisine for breakfast, lunch or dinner The Hob Nob is your place. They provide many items, such as hot dogs, burgers, fish sandwiches, chicken dishes, subs, salads and more.
These are a few of the best places for take-out food in Sarasota. If you don't want to cook and pizza doesn't sound good, call any of these restaurants, place your order and pick it up on your way home from work.