Spring Cleaning Tips for Sarasota Homes
Posted by Alan Atchley on Wednesday, April 2, 2014 at 2:38:37 PM
By Alan Atchley / April 2, 2014
Comment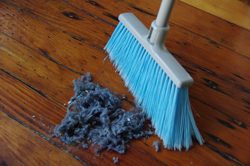 It's that time of year again and many Sarasota homeowners will begin spring cleaning. Creating a refreshed environment is necessary. Here are a few tips to get you started with your spring cleaning this year.
Create a Plan
Cleaning your entire house can be very time consuming. However, a plan can make it easier to see your progress and allow you to start at the right place. The last thing you want is to redo work you've already done.
Purge and Donate
We all collect things we don't use or need. Whether its clothing or wrapping paper or a number of other things, now is the time to purge these items from your life. If you don't use it or need it, donate it. Of course, some sentimental items shouldn't be donated.
Start with Closets
When you do the closets first, you create space for other things. This space can be used for items you decide need to be put away, such as holiday decorations.
Ceilings Before Floors
If you start with the ceilings and your fans, you won't have to do your floors twice. Ceiling and fans collect plenty of dust and need to be cleans. However, it's hard to clean them and not let dust and dirt end up on the floor.
Get to it!
The hardest part of any big task is getting started. Once you've created your plan, start working on your spring cleaning one day at a time. The sooner you get started, the sooner you will be done and back to enjoying a beverage on the beach.
If you're ready to get started with your spring cleaning, use these tips to help. Create your plan, recruit your children and get the work done. Then, you can enjoy the feeling of living in a refreshed and clean home.