Selby Gardens Now Has a Rainforest
Posted by Alan Atchley on Thursday, January 9, 2014 at 10:33:47 AM
By Alan Atchley / January 9, 2014
Comment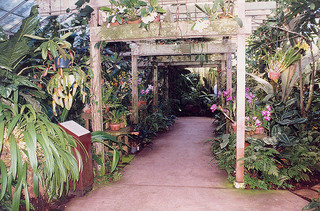 The Marie Selby Botanical Gardens is a very popular destination for both adults and children. This attraction makes sure the children have an enjoyable experience with plenty of natural plant life throughout. They've been providing the Sarasota area with a family-friendly attraction for nearly four decades.
Recently, the premier of the Ann Golfstein Children's Rainforest Garden was announced. This beautiful rendition of a tropical rainforest further enhances the overall attraction. Children can enjoy and play in this interactive area as they discover how life in a rainforest must be.
Award-winning designer Herb Schaal is responsible for creating this beautiful rainforest gardens. He is one of the best landscape architects in the entire county and has created over 20 children's gardens of this type. Schaal has also won many national awards for his beautiful designs.
Enjoying the Tropical Paradise
Two Banyan Trees anchor the rainforest and create a towering canopy. Children can enjoy passing rock formations with botanical plans, a 12-foot cascading waterfall, a forest pool and a suspended rope bridge. The canopy walk provides a safe way for children to enjoy this beautiful area of the gardens as they look down at the root system of the beautiful trees.
Three cylindrical huts are found throughout the Rainforest Village. Each of these huts provides a different exhibit for visitors to enjoy.
The Adventure Trail is another part of the garden and provides a cave-like experience. As you wind your way through this trail you will see the weave of vines and roots, along with so much more.
Parents are welcome to join their children on the adventure or they can spend time in the shaded deck relaxing. The garden provides single entry/exit, so that no child can leave the area without a parent. After entering the garden, children are free to explore and play at their own pace.