Restaurant Spotlight: The Breakfast House
Posted by Alan Atchley on Wednesday, June 24, 2015 at 11:24 AM
By Alan Atchley / June 24, 2015
Comment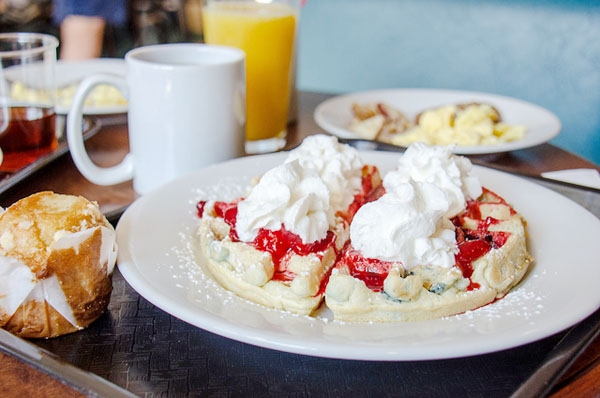 Have you been to the Breakfast House in Sarasota yet? It's been around for only 5 years and has expanded to offer a location in Nokomis but it's already gained an awesome reputation. You'll find a southern style menu with modern and healthy choices.
It's comfort food but healthy with items like "Island Cakes," a creation that mixes pancake batter with shredded coconut, macadamia nuts and thinly sliced pineapple grilled to look like a flower on your plate. You can enjoy breakfast all day long or enjoy lunch items starting at 11am. Here is a look at what to expect.
About the Breakfast House
If you love breakfast all day, The Breakfast House is the perfect choice. They serve breakfast as early as 7:30am on Tuesday through Saturday and 8am on Sundays. They always close at 2pm and you can enjoy lunch starting at 11. They are located at 1817 Fruitville Road in downtown Sarasota with an additional location in Nokomis. Check out their monthly Fourth Friday of the Month dinner special from 5:30pm to 8:30pm.
Breakfast Menu
For breakfast, enjoy house originals like the biscuits & gravy, Uncle Harry's hearty breakfast or the original. Build your own egg sandwich or have eggs benedict your way. Seafood lovers will want to try shrimp & grits and the Key West Omelet featuring lobster. Try pancakes, crepes and French toast. To drink, enjoy bottomless brewed coffee or unsweet Ice Tea. Enjoy tea, milk, hot chocolate, lemonade, mimosas and more.
Lunch Menu
At lunch time, start with a fresh fruit spinach salad, a paradise island salad or the cherry cashew chicken salad. All of the salads can have grilled chicken, Caribbean jerk shrimp or blackened mahi added for an additional charge. Try Key West crepes or a cup of soup. Sandwiches include options like the Scotty's Tuna Melt, the BLT, and the Ultimate Roast Beef Sandwich. Enjoy a drink and dessert with your meal.
Look for the beautiful yellow cottage that looks like you're entering a friend's home at the beach. The Breakfast House will serve up your favorite Florida meals with a tropical touch and will remind you why Florida living is the best. Check them out in Sarasota.