Rediscovering the Sarasota Farmers Market
Posted by Alan Atchley on Tuesday, June 12, 2012 at 8:03:42 PM
By Alan Atchley / June 12, 2012
Comment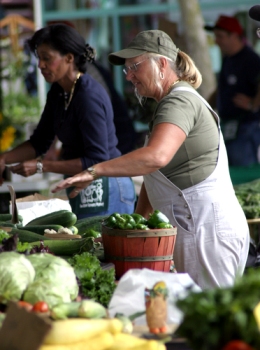 Every Saturday morning, before 7 AM, something wonderful happens in Downtown Sarasota. Artisans are arranging their soaps, textiles, and other wares. Farmers are unpacking fresh fruits and veggies, bracing for the rush of early bird shoppers eager for great local food. The Sarasota Farmer's Market has become a weekend tradition at the intersection of Lemon Ave. and Main St., attracting countless tourists and long-time Sarasota residents since its humble beginnings in 1979.
A trip to the farmer's market reveals so many surprises. Over 5000 square feet of plants, fruits, vegetables, arts and crafts, baked goods, and so many other local and/or handmade products and services are there for the exploring, every week from 7 AM to 12 noon. Always popular are the food and beverage vendors. Offering coffee, sweets, and other tasty treats to hungry shoppers, these businesses ensure you'll never leave the market on the empty stomach. You'll find packaged foods too, which you can purchase to enjoy at home, if you can wait that long!
Plants are popular here, with so countless varieties and species to choose from. Herb plants, veggie starters, ornamental flowers, shrubs, and grasses are all common sights. Often, these are grown organically, without the use of pesticides or herbicides. Local farmers will give you the information, advice, and friendly personalized service you just can't find at a big-box garden center. You'll notice that the plants sold at the Sarasota Farmer's Market are much healthier than those available elsewhere, because the vendors take a great deal of pride in their product.
Of course, there's a lot more to discover at the market than just food and plants. Local woodworkers come out to sell their handmade furniture, designed to be put through the rigors of harsh Sarasota weather. Luxurious spa-quality beauty products made from all-natural ingredients are often a hit, as are the unique jewelery designs on offer from the many talented artists in regular attendance. There's even something for your four-legged friend, with top-quality pet food and accessories for sale by various vendors. Whether you're just visiting or you live in Sarasota permanently, the Farmer's Market should always be on your weekend agenda.