Recently Renovated, The Hob Nob Drive In is Now Open in Sarasota!
Posted by Alan Atchley on Wednesday, August 13, 2014 at 12:17:33 PM
By Alan Atchley / August 13, 2014
Comment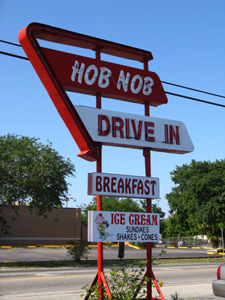 The Hob Nob Drive In in Sarasota, FL, is, according to their website, the "Best Burger in Sarasota."  It is the oldest Drive In in the city, dating back to the 50's when they first opened. Back in 1957 when started by the original owners, Mr. and Mrs. Jack Sohner, the Drive In was designed for servers to deliver food to your car on skates.  
Nowadays, it is more of a diner style building with open air seating covered by a large awning, ever since purchased by Cary and Debbie Spicuzza in 1991.  Along with their hamburgers, they are known for their delicious fries and milkshakes, but also have a wonderful selection of sundaes, cones, and floats.
The Hob Nob Drive In is located over on the corner of Highway 301 and 17th Street. The Drive In was just renovated to add a heater for cooler winter days and roll down shades for rainy days. Open for breakfast, lunch and dinner, stop in for a hot dog or hamburger any day of the week. The atmosphere contains black and white checkered tiles with chrome seats that have red vinyl.  
The menu contains the classic hamburger and hot dog diner options. They offer daily specials and even heart healthy options. They offer beer and wine options, as well as soda, iced tea, coffee, milk, and juice. For lunch or dinner alternatives, try a salad, bowl of chili, fish options, subs with coleslaw, or chicken fingers. For breakfast, you can try the French toast, pancakes, omelets, eggs on a muffin, or the Hob Nob breakfast.
For a fun and relaxing meal, stop by the Hob Nob in Sarasota. This friendly atmosphere will surely cure that hamburger craving on a hot Sarasota afternoon.
Hours of Operation:
Monday - Thursday 7am - 8:30pm
Friday - Saturday 7am - 9pm
Sunday 7am -  8:30pm
Breakfast hours: 7am - 11am