Pairing Entertainment and Education of Jazz in Sarasota
Posted by Alan Atchley on Thursday, May 16, 2013 at 12:11:44 PM
By Alan Atchley / May 16, 2013
Comment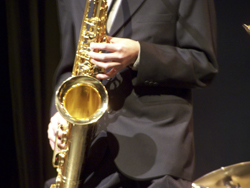 One of the most popular styles of music found along the southwest coast of Florida is Jazz. Most nights of the week, you can find live jazz somewhere. From jazz bars to cruises featuring top jazz artists, there's always something going on. One of the most active jazz centers in Sarasota is the Sarasota Jazz Club, which sponsors a number of events including, jazz seminars, lectures, concerts, cruises, the Sarasota Jazz Festival and many other events including jazz.
The Jazz Club of Sarasota was founded by Hal Davis after he retired in 1978. He used to be in charge of the Goodman Band, which was a very popular choice for many throughout the 1950s and 1960s. Mr. Davis passed in 1990 and he was also responsible for the Sarasota County Art Council and was very involved throughout the community.
The premier event of the Sarasota Jazz Club is the Sarasota Jazz Festival. This is one of the most popular events held throughout the year and started back in 1981. It has grown from a very small one-day event to an eight-day event with many venues throughout the city. The festival includes performances throughout the week, a huge outdoor concert, many educational programs and the Jazz Trolley. The festival provides all kinds of fun throughout the eight days and the Jazz Trolley helps patrons get from one venue to another.
Not only does the club sponsor plenty of jazz events throughout the area, but they're also responsible for education programs in Sarasota. The club has given over $200,000 in scholarships since 1980 to over 150 college jazz musicians. The Club is a membership organization with over 750 current members. Both individual and family memberships are available, with provide discounts to any Club-sponsored events and many other benefits.