One of Florida's Largest Parks
Posted by Alan Atchley on Thursday, June 6, 2013 at 11:42:55 AM
By Alan Atchley / June 6, 2013
Comment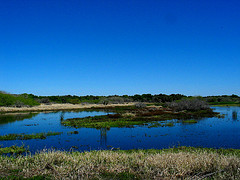 Myakka River State Park is one of the oldest and largest parks in Florida with beautiful views of the Myakka River and 57 square miles full of woodlands, wetlands and prairies. This is a great place for fishing, camping, hiking and observing all the interesting wildlife of Florida.
Many attractions are found throughout the park including:
Airboat Tours
Canoeing and Kayaking
Fishing
Biking and Hiking
Horse Trails
Myakka Canopy Walkway
Nature Trails
Picnic and Pavilions
Tram Safari
Airboat tours provide a great way to see the park, river and all types of wildlife. You can take a tour on the world's largest airboats, Gator Gal and Myakka Maiden and enjoy all the scenery along the way. These powerful boats move slowly through the water giving you the perfect opportunity to relax and spot plenty of animals. You can take plenty of pictures throughout the tour, as well.
Boat Tours are $12 for adults and $6 for children 6 to 12 years of age. They are held daily at 10am, 11:30am and 1pm.
The Tram Safari is another unique feature of Myakka River State Park. This tour gives you the opportunity to see the woodlands of the park as you pass through pine flatwoods, sunny prairies and fertile marshes. Tram Tours are only held between December 16th and May 31st at 1pm and 2:30pm. The tour costs $12 for adults and $6 for children ages 6 to 12.
Park Hours and Fees
The park opens daily at 8am and closes at sunset. The Myakka Outpost is open from 10am to 4pm during the week and 8:30am to 5pm on Saturdays and Sundays. Admission to the park is $6 per vehicle for 2 to 8 people, $4 for one person, $4 for motorcycles, $2 for pedestrians and bicyclists and $2 for additional passengers. Bus tours of 30+ people get in for $60 and tours under 30 people get in for $2 per person.