New Fast-Casual Russian Restaurant Now Open in Sarasota
Posted by Alan Atchley on Tuesday, August 26, 2014 at 10:49:58 AM
By Alan Atchley / August 26, 2014
Comment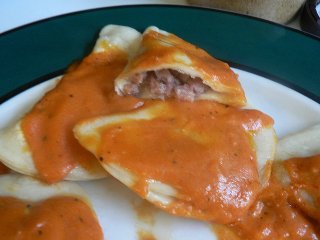 Russian House is a new fast-casual restaurant in Sarasota that has a lot of people talking already. It's different than most fast-casual restaurants in that the food is authentic Russian and the dishes are served on paper plates with plastic eating utensils.
Really, Paper Plates?
Don't let the paper plates and plastic silverware turn you off from this restaurant though. The food is so good, you won't even think twice about what your food is being served to you on. The menu consists of freshly made, microwave-free, authentic Russian food such as pierogi, which are dumplings shaped like crescents filled with your choice of cottage cheese, fruit, or potatoes. Another dish they serve is called Piroshki, which is a hot pocket style food that is deep fried and stuffed with unbelievably good fillings.
When you walk into Russian House, you will immediately look over the menu and place your order. Then you will choose your beverage, such as Lithuanian beer or Polish black currant juice before heading back to a table in the dining area. The atmosphere of the restaurant is very pleasant, and the way they have the place decorated with a Russian theme is quite inviting as well.
Friendly Staff and Owner
The owner and the rest of the staff are very pleasant and friendly, so you can be assured you will receive impeccable service while dining at Russian House. No matter what menu item you choose to try out, you will leave the restaurant after your meal with a full and satisfied stomach.
The Russian House can be found at 6115 S. Tamiami Trail. They are open Monday through Saturday from 10 am to 9 pm, and they have lunch specials from 11 am to 2 pm Monday through Friday. The Russian House phone number is (941) 735-1151 if you have any questions or would like more information about the restaurant.