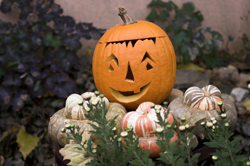 Sarasota is a fun city all year round, but when Halloween comes around, the city becomes a great place for events. With so many to choose from in the area, it's easy to get lost in the variety. Here are some of the top choices for your Halloween fun.
Second Crosley Halloween Gala at the Powel Crosley
On October 31st at 6:30pm the Crosley Supper Club will host the House of Usher by Edgar Allan Poe and you're invited to be a character in the story. Discover your fears and phobias, one by one as the story unfolds and the Ushers bring you through the house. The event will also include a grand buffet and plenty of excellent music. Tickets are $75 ahead of time and $100 at the door. This is a 21 and up event.
The Great Gatsby Halloween Ball
The Ivory Lounge will host the Great Gatsby Halloween Ball on October 26th at 10pm. This event will include an amazing part flashing back to earlier times with plenty of music and fun.
Pet Halloween Costume Contest
Dress your pet up and bring them out for the Pet Halloween Costume Contest hosted by Waggin Tails Grooming. This is the first year for the event and it will be all kinds of fun. First, second and third place winners will get Waggin Tails gift cards. The event will be held fall day from October 18th to...