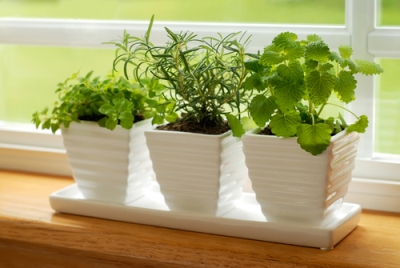 The weather in Sarasota can be challenging for some plants, but many culinary herbs flourish in our tropical climate. With just a few pots, some seeds, and soil, you can have everything you need to start a great kitchen garden, bringing beauty to your patio or backyard and zest to your meals! Whether you live in a condo or a single-family house, there's no excuse not to have a few small pots of herbs lining your windowsil to add some life and colour to your kitchen. Here are a few of our favourites:
Parsley Any cook worth her salt knows that having fresh parsley on hand is compulsory in a good working kitchen. Flat-leaf Italian parsley has a stronger flavour than the regular curly kind, great for soups, salads, and practically every other savory dish you can throw it into.
Rosemary Rosemary is one of those herbs that you'll instantly know is in a dish. It is grown in the mediterannean, so it's perfect for the hot weather of Sarasota. Typically, rosemary is added to poultry dishes, but it's also great in desserts that contain earthy fall fruits, like apples and pears.
Dill Known for its delicate fresh taste, dill is an underrated herb. Dried dill is fine, but fresh dill is an experience unto...