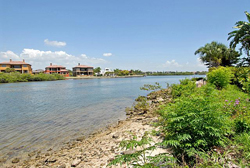 The summers in Florida are known for their intense heat which makes it more of an off-season to residents. There are so many reasons to appreciate the summers here and ways to use the heat to your advantage.
Beauty
Thunderstorms are short and sweet in the afternoons in the summer, but they are perfect for a quick cool off, nourish the ground, and you can't beat the sound of rain. After the rain passes, the clouds can form some beautiful looking skies.
The evenings bring gorgeous sunsets that provide the best photographs of a Florida beach. The colors always vary and they never get tiring to look at. What is great is that you can enjoy the days longer in the summer since the daylight hours are closer to 14 hours (instead of the typical 12 hours) between June and September.
Food
Every year the city hosts one week of food from the area's best restaurants at discounted prices such as Café Gabbiano, Duval's New World Café, and Hyde Park Prime Steakhouse. Since people avoid the area during the off season, restaurants have more reservations available and less crowded restaurants. Be sure to check out Kilwins on St. Armands Circle for a fantastic rainbow flavored ice cream cone on a hot summer day.
Activities
Enjoy the months of summer dresses, wide brimmed hats, shorts,...