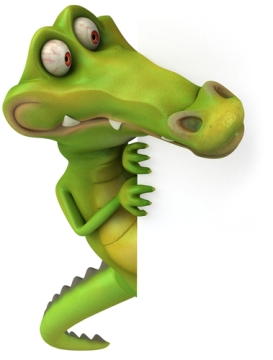 Florida is famous for many things: the Everglades, white sand beaches, and great weather are just a few. But something a bit more sinister is also synonymous with our fair state: alligators. Recent news stories describe horrific incidences of alligators swallowing human limbs whole, hands and arms specifically. But how dangerous are these creatures in actuality? Read on for some stats about Florida's famous freshwater 'gator and to get tips on admiring these beasts from a safe distance.
From 1948 to 2005, alligator attacks on people in Florida numbered 391. That sounds like a big number, but it actually averages out to one death every five years and just over six injuries per year. That's drastically less than all of Florida's workplace fatalities in 2010 alone. However, there's no denying alligators are dangerous animals, especially given the recent attacks getting airplay on the news. A teenaged swimmer in the Caloosahatchee River recently lost his arm to a 'gator, and an airboat captain had his hand bitten off.
So, how did these unfortunate attacks happen? Well, some say it's the victims' own faults. Many long-time Florida residents will tell you it's foolish to swim in freshwater, no matter what part of the state...