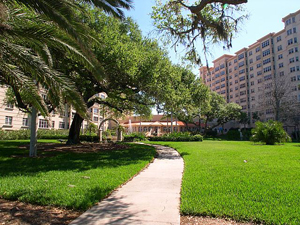 Sarasota is changing, as most cities do over time and the hottest neighborhoods are changing along with it. Many of the areas once considered a little down, shabby and not quite as good as another area, are coming back with vengeance. Some of the most interesting residents are moving into these areas, opening businesses and creating a buzz around neighborhoods once considered average, at best.
Gillespie Park
One of these neighborhoods is Gillespie Park. It's been poised for a breakthrough for many years, but always seems to fizzle before it becomes a hot place to live. However, this area has recently become a hip choice and downtown is exploding. With the arts scene carrying this area, plenty of new shops and restaurants, it has quickly become one of the hottest choices for new residents.
It's not quite there, but as more homes in the area go from shabby to chic, it's quickly becoming a better choice than it was before. Of course, there are still low-income renters in the area, but this is becoming less of the norm. Artists have called Gillespie Park home for quite some time, but many of the newcomers are providing a different flare for the area.
Ringling Park and Paver
Found to the east of downtown, these two neighborhoods provide plenty of small custom...