M.A.D.E. is Experiencing Success
Posted by Alan Atchley on Tuesday, May 7, 2013 at 10:45:48 AM
By Alan Atchley / May 7, 2013
Comment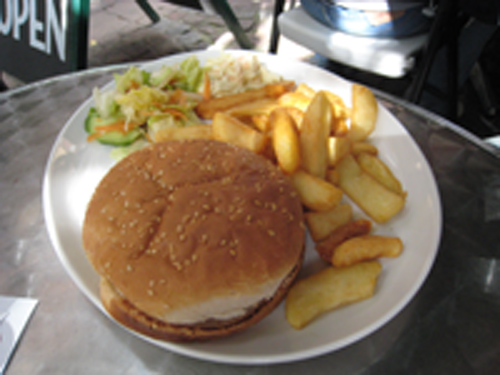 M.A.D.E. stands for Modern American Delicious Eats and is a restaurant located at 1990 Main Street. It's owned by Michael Ripatranzone and Mark D. Woodruff. With many upscale and comfort food selections, this is a restaurant perfect for those looking for a casual taste of Americana. It's cozy, with plenty of space for eating and drinking.
The menu features many dishes in the American comfort food category, but with a twist. Some examples of what's found on their menu include:
Ribs - Choose from applewood smoked, dry rubbed or peach BBQ glazed.
Scallops - The scallops are pan seared and served with a micro wasabi green salad and jalapeno cream corn.
Empanadas - Baked until they're a perfect golden brown and made with duck, radish slaw, orang, cherry and sweet potato, these are flavorful and rich.
Double Dipped Fried Chicken - Made with a buttermilk batter and served with Gruyere and black pepper waffle.
Classic Burger - With their own meat blend, barbecued peppers, onions, pepper jack and a number of other toppings. It's served with cheese tots and malt mayo.
Many other dishes, from salads to desserts are featured on the menu. Diners can enjoy the fresh taste of a delicious grilled Caesar salad or choose one of the other great salads from the menu. If you're looking for something sweet, the Banana Pudding Crème Brule is perfect or choose the American classic apple pie.
This upscale experience includes plenty of great eats, but the bar is also full of great selections. From beer and wine to plenty of premium cocktails, you can find just about anything you want behind the bar.
M.A.D.E. serves brunch, lunch and dinner, with a happy hour daily and a late night menu. If you're looking for a trendy place for dinner or just want to stop in for a drink and a snack, this is a great new choice for quality food and a buzzing atmosphere.