Is there any Lawn Bowling Happening in Sarasota?
Posted by Alan Atchley on Thursday, August 7, 2014 at 10:25 AM
By Alan Atchley / August 7, 2014
Comment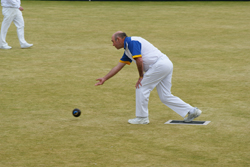 In Sarasota, Florida you can now enjoy lawn bowling. Started in 1927 in the area, this outdoor sport is a local favorite.  In this sport, you roll balls on an outdoor surface like grass and want it to stop close to a marker called a "jack."
Sarasota Lawn Bowling Club
Sarasota has the oldest sport club in Florida, the Sarasota Lawn Bowling Club. They use a perfectly manicured lawn to roll the ball across the grass.  Lawn bowling is a sport for the young and old. They are associated with an international membership including Canadians, Scottish, and English bowlers. Eastern USA bowlers like to come out and join locals from Sarasota during the winter season for home and away matches.
The Sarasota Lawn Bowling Club is located at 809 North Tamiami Trail at Highway 41. This is located near the Municipal Auditorium. They meet every Monday, Wednesday, and Friday starting at 9am, and even Thursdays at 5:30pm. They welcome all ages and levels of experience to attend their bowling meets, and offer free lessons as well. They just ask that you wear flat soled shoes.
History of the game
The game goes back more than seven thousand years ago, in which our ancestors were playing in 5,000 B.C. It used to be called "Bocce" when Caesar was ruling Rome. From there the game spread all over Europe. It is even considered the "Sport of Kings" because of its royal heritage; it was around during the time of Edward III. The sport was introduced to the American scene in the 1600's. In fact, it was one of the main causes that brought a friendly relationship between America and Canada.
For anyone in the Sarasota area looking for a place to try the historic lawn bowling, stop by the Sarasota Lawn Bowling Club for free lessons.