How does Sarasota Plan to Improve the Downtown Culture District?
Posted by Alan Atchley on Thursday, July 24, 2014 at 1:51:45 PM
By Alan Atchley / July 24, 2014
Comment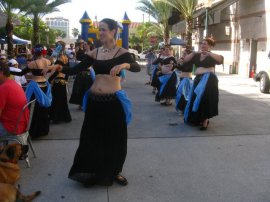 Florida has been undergoing a transformation to make cities more tourist friendly. West Palm Beach has sunk 30 million into their renovations. These included a mile long landscaping project that lines the Intracoastal area, which was part of the Waterfront and City Commons project. Bradenton has added a 1.25 mile Riverwalk that has quickly become a popular attraction. This walkway alone has drawn a half of a million individuals since its opening in 2012.
Many of these waterfront parts have museums, cultural shops or restaurants, concerts and festivals. There is talk that there could be a culture park built on the 42 acre lot in-between Boulevard of the Arts and Centennial Park. This has been up in the air since the 1990s. However, more chatter is occurring now that two additional properties are available to the south of the talked about location.
This vision could cause Florida to become known as a culture paridise, and this is something that could get them noticed in a big way. The park plans have been growing over the years since the original idea was launched in 2007. However, the Recession placed a big hault on these plans. They have never been forgotten, and have come alive over the last few years.
This culture park will serve as a place of solitude for the locals of Sarasota. This park will be vast with lush green grass and have an area for outdoor concerts. The sidewalk will become an idea place for strolling and jogging, as well as a lead way to perfect picnic spots and fishing holes. To house all the visitors of the park, there would be a 1,800-space parking garage developed just west of the Municipal Auditorium.
Other improvements to the downtown area include introducing restaurants, shops, a sculpture garden, crossing trails, and water taxi's. All of this will be introduced with the development of the Culture Park, which will bring so much to the Sarasota area. New jobs, more tourist, and a place for locals to come together and enjoy.