Hiring Your Contractor: A Guide
Posted by Alan Atchley on Thursday, April 19, 2012 at 7:47:33 PM
By Alan Atchley / April 19, 2012
Comment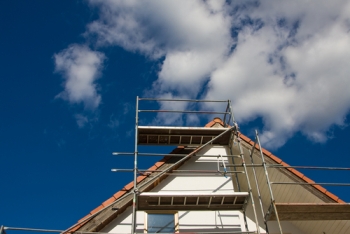 At some point, whether it's just after moving in, or after many years in the same house, homeowners inevitably will change or upgrade their home. Reasons for doing so may be to broaden the property's appeal, increase the quality of living, increase income potential in the form of a rental unit, or simply keep up maintenance and repairs so that the home retains its value. Regardless of the reason why you've decided to renovate, you'll be happier with the changes if you consider a few tips before hiring a contractor for the first time.
You should always be cautious of anyone who comes to your front door to solicit business. That's not to say there aren't legitimate business people, like roofers or driveway pavers, who do this to get new clients. However, as you would for any employee, you should still check their references before deciding to hire them. Never immediately agree to hire someone who goes door to door to create business, especially for a large-scale renovation.
Before hiring your contractor, don't hesitate to perform a simple background check. This can include checking the Better Business Bureau to find out if there is a history of problems with the company, or contacting any local homebuilder's associations to find out if any complaints have been filed against the company. You may find reason to be concerned if this contractor isn't registered with these or any other accredited organizations.
Licensing and insurance are si-highlight--primary aspects in any home renovation. Your contractor should be able to provide documentation that she or he is qualified to work on your home, and that meeting the necessary insurance requirements is part of their company's policy. Ensure that you've verified your contractor's qualifications and insurance coverage, otherwise you could end up being liable in the case of job site injuries or other accidents.
When it comes to payment, be wary of anyone who claims that they need to be paid in full before they start work. Say no immediately, and if you receive a rebuttal claiming that they need to use the money to first buy materials, know that most reputable contractors won't bill their clients for material in advance, as they'll likely have an account with their regular suppliers. Tradespeople requesting a down payment or pre-payment of up to 15% is reasonable and not uncommon.
Sometimes the contractor will offer a verbal discount on the price when paid in cash. These kinds of contracts may be tempting, but it's usually worth it to put everything in writing. This is to avoid any discrepancies down the line, and to refer back to if any disagreements arise. A written contract will protect both parties from liabilities, layout the contractor's duties, and si-highlighting the scope, schedule, price and warranty.
At the end of the day, you'll need to make an informed decision by educating yourself before committing to hiring your contractor. The best way to go about hiring someone to oversee large-scale renovations to your home is still through word of mouth and old-fashioned research. Be prudent, check their background and their references, and ensure they have current and appropriate documentation for the job they would be taking on.