Grow Your Own: The Top Five Herbs You Should Have
Posted by Alan Atchley on Tuesday, September 11, 2012 at 1:09:43 PM
By Alan Atchley / September 11, 2012
Comment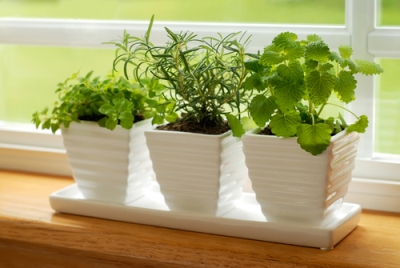 The weather in Sarasota can be challenging for some plants, but many culinary herbs flourish in our tropical climate. With just a few pots, some seeds, and soil, you can have everything you need to start a great kitchen garden, bringing beauty to your patio or backyard and zest to your meals! Whether you live in a condo or a single-family house, there's no excuse not to have a few small pots of herbs lining your windowsil to add some life and colour to your kitchen. Here are a few of our favourites:
Parsley Any cook worth her salt knows that having fresh parsley on hand is compulsory in a good working kitchen. Flat-leaf Italian parsley has a stronger flavour than the regular curly kind, great for soups, salads, and practically every other savory dish you can throw it into.
Rosemary Rosemary is one of those herbs that you'll instantly know is in a dish. It is grown in the mediterannean, so it's perfect for the hot weather of Sarasota. Typically, rosemary is added to poultry dishes, but it's also great in desserts that contain earthy fall fruits, like apples and pears.
Dill Known for its delicate fresh taste, dill is an underrated herb. Dried dill is fine, but fresh dill is an experience unto itself. Cooked into pastries, chucked into a dip, or added to a salad, you'll love this light herb. It's pretty to look at too, with its feathery fronds and interesting seed heads.
Basil This mainstay is a must for anyone who likes Italian food. Bocconcini salad, for example, is just plain cheese and tomatoes without basil. Like rosemary, basil can also be used in desserts. It adds a bright zing to strawberries and gives watermelon a whole new lease on life.
Mint Last, but certainly not least, mint rounds out the list of MILFs: Most si-highlight--primary and Legendary Flavours. A classic paired with lamb and as a garnish for desserts, mint is definitely a must. If that's not reason enough for you to plant it, you'll be happy to know it's simple to grow.