Fifth Annual Street Art Festival Celebrated in Sarasota
Posted by Alan Atchley on Thursday, November 29, 2012 at 1:29:51 PM
By Alan Atchley / November 29, 2012
Comment
The Chalk Festival in Sarasota celebrates its fifth year by taking its visitors to a world of impressive 3D and 2D art.  There are more than 500 local and international participating artists joining this exciting event.  This year, the theme "Circus City, USA," remembers the time when the shores of Sarasota became home for the winter circus.  These creative and artistic minds give life to the roads and buildings with their chalk illustrations.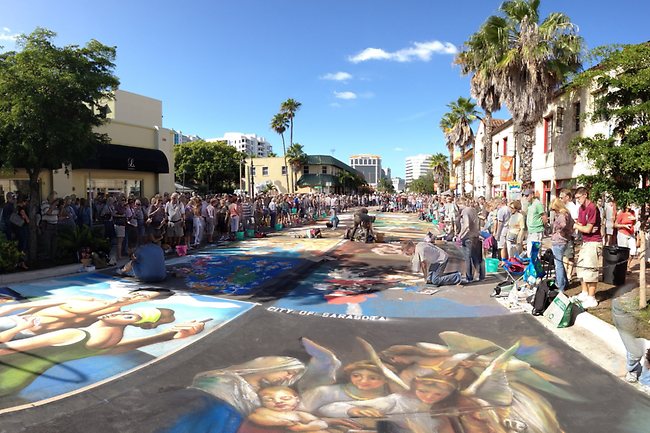 One of the main attractions of this year's Chalk Festival is Kurt Wenner, inventor of the 3D chalk art.  His chalk illusions started getting popular during the 1980s. He studied art in Italy and used to be a NASA space illustrator. On an interview, he focused on his creation for this festival and said that his chalk illusion will seem bigger than it actually is.  It will be one layer of art upon another layer of art. The total space for his masterpiece may reach fifteen and a half feet, but from a certain angle it will appear larger.
Bryan Moon, another popular 3D artist, created interesting Wild West characters. These Western cowboys and cowgirls are not your usual people, they're all cats - eight cats to be precise.  His choice of whimsical nature on his creation also draws the crowd's attention.  On an interview, Moon disclosed that he spent 40 hours of hard work to perfect his masterpiece.  His wide feline creation occupied up to 300 feet of the pavement.  
Denise Kowal, Artistic Director and Event Chair stated that it's like seeing an "Outdoor Museum in Motion," viewers can stop and chat with the artists as they go on with their creation.  It's very overwhelming to see these artists take their work seriously.  They spend countless hours on their hands and on their knees to produce their amazing chalk arts.  Viewers are awed as their works of 3D art transforms in front of their eyes.