Sisters Are Doing It For Themselves!
Posted by Alan Atchley on Friday, March 16, 2012 at 2:22:52 PM
By Alan Atchley / March 16, 2012
Comment
Recently, a Port Charlotte girl aged 14 years bought her own home. That's right, with the help of her mother, she is now a homeowner. Enterpising young Willow Tufano split the cost of a foreclosed home with her mom, using the earnings she saved from refurbishing and selling furniture and knick-knacks. Together, they fixed the home up and now it is being rented out. Willow says she'll continue to save money from the rent proceeds (half of which go to her mother), so that she'll be able to buy the other half of the property when she's old enough to own the home independently.
Unfortunately, Willow and her mom are taking a lot of criticism for this investment, which some say was an irresponsible choice. Naysayers claim that, in an economic climate where people are being forced to move out of their homes due to job loss, a girl buying a foreclosure and flipping it so that it can be rented out to people who perhaps once were able to afford to buy such a home is a decision made in bad taste. Of course, the other side of this coin is that the newly renovated rental provides affordable housing to a family that would otherwise have nowhere to live.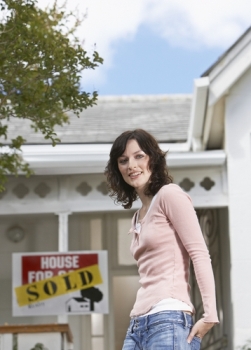 As a young woman, Willow represents a growing and exciting demographic. Of course, her case is very unique as she is so young, but she contributes to the ever-increasing number of women who are willing and able to invest in real estate. Some statistics claim that single women make up more than one third of the growth in property ownership since 1994. Because of increased access to higher education, more balanced societal values, and better job opportunities, women are making better wages and are in more favorable positions for home ownership.
It's an exciting time in real estate and Willow Tufano's determination and savvy is great inspiration for plenty of other aspiring investors. Some critics knock her for being insensitive to the current economic difficulties in the United States real estate market. However, as citizens of a capitalist country, we should be applauding and encouraging Willow's initiative and ambition.