Educational Fun For Everyone
Posted by Alan Atchley on Tuesday, July 16, 2013 at 12:39:37 PM
By Alan Atchley / July 16, 2013
Comment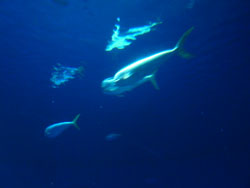 A trip to the Mote Marine Aquarium provides plenty of fun and a look at local sea life. This is one of the favorite local attractions and provides a great place for the entire family to enjoy.
Accredited by the Association of Zoos and Aquariums, the Mote Aquarium is the perfect place for animals. You can explore the many touch pools, watch as the workers care for animals, enjoy the many exhibits and even hold your event at the aquarium. Some of the animals you will discover include manatees, sea turtles and sharks. Over 100 different species are found at the Mote Marine Aquarium.
Breakfast at the Mote
Enjoying breakfast at the Mote is a great way to see all that's offered by the aquarium. You get to enjoy a continental breakfast and take a tour of the aquarium before the morning crowd arrives. This is a small group event and allows the general public to spend time taking pictures and watching the morning routine without a large group of people around. Enjoy the shark tank cleaning and fish feedings, as you snap pictures of the wildlife.
Groups of 10 to 20 can enjoy breakfast at the Mote for $24 per person.
Eco-Boat Tours
Taking a boat tour allows you to interact with many different adventures. You can choose from one of the many tours including:
Sea Life Encounter Cruise
Guided Kayak Tours
Nature Safaris
Private Charters on Miss Explorer
All of these tours provide a different look of the Mot Aquarium. Experience how life really is on the water and potentially see manatees, eagles, dolphins and osprey in their natural environment. Pricing varies depending on the group size and the tour you choose.
Hours and Admission
The Mote Marine Aquarium is open from 10am to 5pm every day of the year. Adults can enjoy the aquarium for $19 and youth ages four to 12 get in for $14. Seniors 65 and older receive a $1 discount and children three and under are free. Memberships are also available for $60 per year.