Don't Miss The BB&T Venice Sharks Tooth Festival
Posted by Alan Atchley on Tuesday, April 16, 2013 at 10:51:04 AM
By Alan Atchley / April 16, 2013
Comment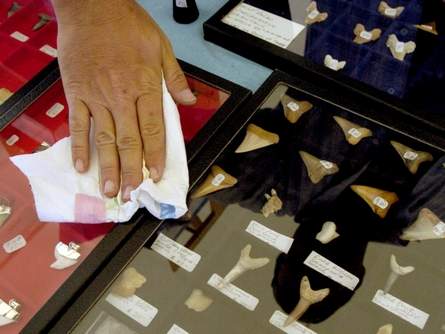 For the twenty-first time, the BB&T Venice Sharks Tooth Festival will be held from April 12th - 14th. This festival is the perfect event for all area residents to enjoy everything from great good to fossil vendors and even arts and crafts. Whether you want to come out with the family or you just want to stop by with a group of friends, this is an event you cannot miss.
Since the city of Venice is known as the "Shark's Tooth Capital of the World", they hold a festival every year to celebrate these teeth. Millions of teeth are found throughout the beaches of this area every year and each spring the Sharks Tooth Festival kicks off. With the best beaches for hunting shark's teeth as the backdrop, collectors get together to admire, sell and take part in this popular festival. In addition to the many shark's tooth vendors, the festival will feature over 100 artists with their original work.
Food vendors will serve up some of the best BBQ in the area, along with fresh seafood and many other choices. Live entertainment will take place on the main stage throughout the festival, along with events specifically for children, such as the Mote Marine's hands on exhibit and the Shark's Tooth Scramble. Here's a schedule of this year's entertainment:
The Gator Creek Band - Friday from 6pm - 9pm
Gulf Coast Cloggers - Saturday from 10am - 10:45am
The A Train - Saturday from 11am - 12pm
High Tide - Saturday from 12:30pm - 1:30pm and 3pm - 4pm
Fishing Presentation - Saturday from 2pm - 2:45pm
Lauren Mitchell Band - Saturday from 4:30pm - 5:45pm
The Boogieman - Saturday from 6:15pm - 9pm
The Trinidudes - Sunday from 11:15am - 12:15pm
Impulse - Sunday from 12:45pm - 2:30pm
The Crashers - Sunday from 2:30pm - 5pm
The festival will open on Friday at 4pm and run until 9pm. Saturday and Sunday it will open at 10am and run until 9pm on Saturday and 5pm on Sunday. Admission is only $3 and children 12 years of age and under are free.