Discovering Casey Key, Florida for the First Time
Posted by Alan Atchley on Thursday, June 19, 2014 at 7:21 AM
By Alan Atchley / June 19, 2014
Comment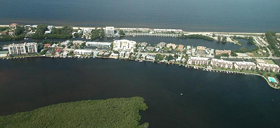 Casey Key is the name of a slim island located at the southern tip of Sarasota County in Florida. It is mostly a residential area. There are a few hotels, vacation homes, and motels. Famous author Stephen King has a winter home located on this narrow island. Casey Key is a very relaxing area that has not been spoiled by construction and development.
The Beaches
There are several relaxing beaches including two that are public and safe for snorkeling and swimming. The Nokomis Beach is huge and it is never crowded which makes it the perfect place to take your younger children. The Lyons Bay is on the east side of this beach and the Gulf of Mexico is on the west side. The beach is perfectly sheltered by tropical shrubbery and palm trees.
Watching the Wildlife
In 1970, the Casey Key Conservation Act dedicated the entire island to being a sanctuary for wildlife and marine animals. There are tons of opportunities for you to go bird watching. Sea turtles are frequent visitors on the island and you can even spot dolphins swimming in pods on the channel. The flora and foliage around the island is beautiful as well.
Fishing and Boating
The Intracoastal Waterway is in Casey Key's backyard. The North Jetty Beach is a popular hotspot for people who like to go fishing. You can visit Cool Breeze Boat & Jet Ski Rentals if you want to charter a boat or rent a jet ski for a few hours or for the entire day. There are deck boats available for up to 10 people to enjoy a good time on.
It will not take long for you to feel like a local walking around Casey Key. Between the wildlife and the water, you will never run out of fun things to do.