Discover the Top Four Secret Beaches in Florida
Posted by Alan Atchley on Tuesday, January 21, 2014 at 11:43:21 AM
By Alan Atchley / January 21, 2014
Comment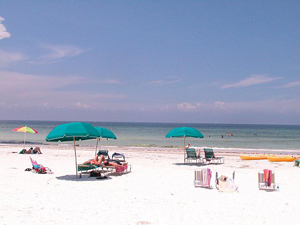 Florida is known for the beaches and many of the best beaches are found in Sarasota, Florida. Finding a great beach for sunbathing, water sports or just a relaxing walk isn't hard. The best beaches, however, are secret and only locals know where and how to get to them. Here are the top four secret beaches throughout Florida for you to discover.
Pass-a-Grille Beach
Found just north of Sarasota near St. Pete Beach, this is a very quiet place to enjoy the beach. The water stays warm from the Gulf-Stream and the sands are beautiful. This tranquil environment is home to the Pass-a-Grill, which is a huge resort. Many shops and restaurants are found throughout and there's plenty to enjoy with Tampa just 15 minutes from this secret beach.
Siesta Key
This small island is very close to Sarasota and provides one of the favorite spots for those trying to get away from the tourists. Siesta Key is a treasure not everybody gets to discover and provides plenty of beautiful beaches with a serene environment.
Blue Mountain Beach
If you take a trip north to the panhandle of Florida, you will want to enjoy the Blue Mountain Beach. This is one of the few beaches in the Destin area that hasn't been commercialized like crazy. It's untouched and very quaint.
Anna Maria Island
Another beach not far from Sarasota many don't known about is found at Anna Maria Island. It's just north of Bradenton Bach and provides a home for many cultural events, along with one of the most beautiful beaches in the area. Everything on Anna Maria Island is about quality, such as the Arnold Palmer Legacy Golf Club and the many other attractions.
Whether you take a day trip to the panhandle or a short drive to one of the other secret Florida beaches, you're sure to find the peace and relaxation you deserve.