Deep Energy Retrofit Project in Sarasota
Posted by Alan Atchley on Tuesday, October 16, 2012 at 4:04:55 PM
By Alan Atchley / October 16, 2012
Comment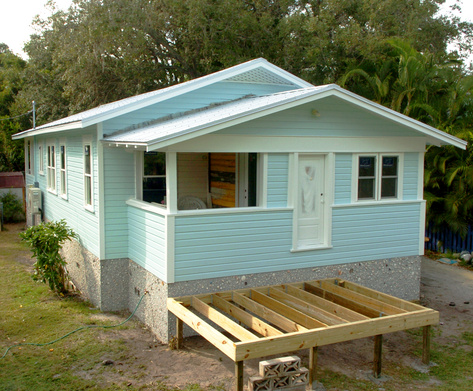 Erika Brigham's place in the south downtown area of Sarasota has recently been rated 'Homes-Platinum' by LEEDS.  This is the highest rating designation from the US Green Building Council. 
Sarasota's Dwell Green in cooperation with the US Dept. of Energy launched its pilot program, called the Deep Energy Retrofit, and Brigham's 1920s wood-frame bungalow house underwent the retrofit project. 
Brigham owns a tiny house with the 2-kw photovoltaic system capable of generating electricity directly from the sun.  Oftentimes she experiences an energy surplus because of her tiny space.  She stated that she is billed by FPL the $7.07 monthly service fee.  She added that the house does not have a solar water heater but an on-demand tankless gas-powered type. 
Phil Peters from the Philip Peters Contracting Service Company was Brigham home's green rater.  He added that it was also his 1st project.  Bonita Springs' E3 was LEED for the Homes provider. 
Peters stated that the home's tiny size qualified for the home-size adjustment according to the standard requirement for LEED for Homes.  For Platinum rating, the minimum score required is 80 and the Brigham house received a 92 score out of 136 possible points. 
LEED stands for Leadership in Energy and Environmental Design. 
HERS means Home Energy Rating System and the Brigham house received a 27 HERS rating.  The rating means that the home was only using 27% of expected energy usage in a house constructed to the new energy code, stated Peters. 
The Brigham house comes with low-emissivity, double-pane windows and a tightly-sealed envelope made possible through a combination of foam panels and a spray-foam type of insulation.  The house also has plumbing fixtures with very low consumption. 
Peters stated that Brigham house's landscaping is ultra tolerant to droughts.  There is also rainwater cistern created out of two 275-gallon of recycled containers used to transport grape juice. 
New Panel Homes' Brian Bishop was the house's general contractor while John Lambie was Dwell Green's consultant.  Others who took part in the project were Dale Lewis as green consultant and the late engineer Subrato Chandra from Pacific Northwest Nat'l Library. 
Deep Energy Retrofit aims to achieve a 30 to 50% improvement in terms of building performance through the installation of photovoltaic panels that produces electricity.  According to Chandra, with enough money, home owners will be able to install enough panels in order to lower down their HERS rating. 
Lewis stated that it is actually Erika Brigham's participation and willingness to promote that has greatly contributed to the project's success.