Basement Renovations: A Primer
Posted by Alan Atchley on Tuesday, April 3, 2012 at 1:40:39 PM
By Alan Atchley / April 3, 2012
Comment
What do you think of when you hear the word "basement"? Do you think of your basement as a dingy, cold place with cinderblocks, spiders, and a strange smell you'd rather ignore? Or is it simply a part of your home used for storage and nothing else? No matter what kind of basement you have, chances are pretty good you could be using it more to your advantage. A basement is a great way to leverage the size of your home for tenant occupancy, build a rec room, or convert it to a "man cave".
Creating a livable suite in your basement is a great way to get some increased value from your home, for help with mortgage payments, or just to put into savings for the maintenance of your home. Once you've gone through with the proper contractors/architects/inspectors to make sure permits, drainage, air circulation, ceiling height, and other considerations pose no problems, you can get on with the reno. You may want to hire an expert or do it yourself, but whichever option you choose, make sure you do your research. If you scrimp on materials and your rental is not a pleasant place to live, you'll go through tenants often, risking missed rent payments.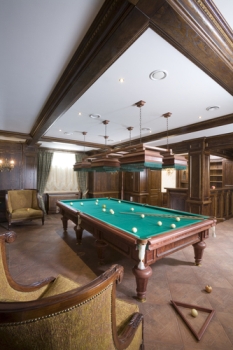 A basement rec room is perfect for fitness buffs or families with rambunctious kids. Having a large indoor space for games and other activities can be a life-saver when the weather is less than optimal. You'll want to pay close attention to lighting and flooring to prevent injury and boost comfort. Cork floors are a fantastic alternative to carpet because spills can easily be mopped up and they provide more cushion underfoot than hardwood, laminate, tile, or vinyl flooring.
The "man cave" is possibly the most affordable basement renovation option, depending on the man in question. Some men only need a few scandalous wall posters, a dart board, and a cooler for beer, while others prefer a sophisticated whisky lounge-type design. If the owner of the man cave likes to smoke, it may be worth adding a small but comfortable (and covered) outdoor space. You'd be surprised at how much the odor of tobacco can negatively impact your home's resale value.
Each one of these options comes at a different price, so take stock of your needs and plan accordingly. If you need to save for a few years to afford a renovation, you might consider adding a small monthly payment on top of your mortgage bill that goes into a savings account, or try out a "no spend day" challenge, where you aim for a certain number of days every month on which you do not spend any money except on bills (mortgage, car payments, etc.) and debt. Take the surplus and put it toward your reno. You'll have enough cash for a beautiful transformation in no time!