A Secret Found in Sarasota, Florida
Posted by Alan Atchley on Tuesday, September 3, 2013 at 1:51:25 PM
By Alan Atchley / September 3, 2013
Comment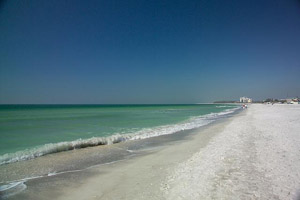 Unless you've done your research or you're a local in Sarasota, you may have never discovered the Lido Beach area. Crossing over Ringling Causeway and past Bird Key and Coon Key, you will find St. Armands Circle. This area is home to many upscale shops and locals refer to it as the Rodeo Drive of Sarasota. As you keep going west, you will discover a three-mile stretch of beautiful beaches called Lido Key.
Lido Key is home to three beaches with the main one called Lido Beach. It's about a half-mile to the west of St. Armands Circle and provides over 3,100 feet of beachfront. Visitors can enjoy a heated swimming pool, plenty of parking, secluded shore area and more.
The park in the area provides plenty of nature trails for hiking and enjoying everything the area offers. With sandy-soil found throughout the coastal ridge and plenty of Australian pines, visitors can enjoy the natural beauty of the area. The northern part of the beach provides an area full of birds and other wildlife.
Lido Beach used to allow nude sunbathing, but that stopped in the late 1980s. It's illegal now, but it still happens. The location of Lido Beach is 400 Ben Franklin Drive and visitors can enjoy all three beaches:
Lido Beach
South Lido Beach
North Lido Beach
The beaches start at Big Pass and provide over 100 acres of total area, a nature preserve, small and large beaches, plenty of amenities and more.
Facilities are found at both South Lido Beach and Lido Beach, while North Lido Beach doesn't have any type of facility. Lido Beach has concessions, picnic tables, showers, restrooms and more.
If you've been looking for a great beach to enjoy away from the main beaches of Sarasota, take a trip to Lido Beach for your next day away.