A New Restaurant Dedicated to Quality Coming to Sarasota
Posted by Alan Atchley on Thursday, September 19, 2013 at 11:04 AM
By Alan Atchley / September 19, 2013
Comment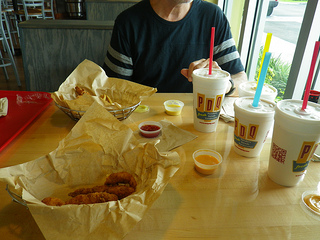 MVP Restaurant Partners, LLC recently opened a new restaurant in Sarasota called PDQ. This fast-food restaurant chain is known best for its chicken tenders, but also serves sandwiches and salads. The PDQ name doesn't stand for Pretty Darn Quick, as you might think, but instead, it stands for "People Dedicated to Quality." The restaurant also serves fresh cut fries, malts and hand-spun milkshakes.
You can find this new restaurant at 5163 South Tamiami Trail near Rooms To Go. PDQ opened the first area location in 2011 and has expanded into 12 locations across Florida and North Carolina. The chain is set to open 14 more locations across Florida and Texas by the end of the year.
PDQ is known for serving fresh food fast from a menu including a variety of delicious options different from many other fast food chains. The menu includes:
Chicken Tenders meals
Spicy Buffalo Tenders Sandwich
Grilled Chicken Sandwich
Crispy Chicken Sandwich
Grilled Turkey Breast Sandwich
Crispy Turkey Breast Sandwich
Fresh Cut Fries
Fresh Blueberry Coleslaw
Apple Slices with Toffee Dip
Crispy Chicken Salad
Grilled Chicken Salad
Chicken Caesar Salad
Bottled Cheerwine
Fresh-squeeze Lemonade
Fresh-brewed tea
Bottled Water
Coke Products
Malts
Milk Shakes - Including Oreo, Health, Chocolate Peanut Butter, Vanilla, Strawberry, Chocolate and a Seasonal flavor.
The Sarasota location will be open from 10:30am to 10pm seven days a week. They held a grand opening on September 15th, which saw quite a bit of community support for this new, quality restaurant.
The parent company, MVP Restaurant Partners, LLC originally purchase the land for the restaurant earlier this year. Along with this land, they purchased another property in Manatee County near State Road 70 and Interstate 75. This may be the next location for the PDQ chain or it could be the location of another restaurant coming from the group.