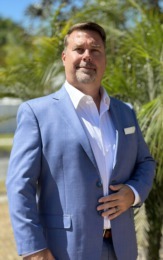 Shannon is a highly skilled Realtor with a passion for helping his clients achieve their real estate goals. With 30+ years of experience in the industry, he has established himself as a respected and trusted advisor from St. Petersburg Florida to Tampa Florida to Ocala Florida and every city in between.
Shannon is committed to delivering exceptional service to his clients, whether they are buying or selling a property.  He has a deep understanding of the local market and uses this knowledge to help clients make informed decisions. He can help you with your first home, second home, investment properties or 55+ and over living communities.
Shannon relocated from Columbus, Ohio to Tampa, Florida in 2017.  He is married and has eight beautiful children.  They moved to Tampa for the weather and all that Tampa has to offer.  Shannon is a Cancer survivor and understands that life is very precious and it's important to embrace your family and friends. 
If you are looking for a Realtor who is knowledgeable, professional, and dedicated to your needs, Shannon Martin is the perfect choice. Contact him today to learn more about how he can help you achieve your real estate goals.